Why should you license technology?
To win in today's markets, smart companies can no longer afford to wait for "R&D" to come up with the next blockbuster. Few companies have the resources and know-how to effectively cover all aspects of product design in a fast-changing market. Compared to the heavy cost of internal development and delays in launching new products, licensing state-of-the-art technology provides the fastest and most cost-effective way to address new opportunities.



Access to innovative new technologies—and sharply reduced time-to-market—
are the keys to success!

Exclusivity is key!
Patented Ceramitron℠ microsensors champion a highly versatile enabling technology that can drive a wide range of diverse applications through innovative OEMs. To assure licensees the strongest possible market advantage—without concern that a competitor is using the same technology—we will license only on an exclusive basis.

Royalties
In addition to a one-time licensing fee for exclusivity, we believe that a reasonable performance guaranty, in the form of royalties, offers a fair income to Ceramitron while placing the minimum burden on our licensees. A minimum annual royalty, negotiated at the time of licensing, is charged to assure a baseline income to Ceramitron until the licensee's product sales are in full swing, at which time only actual sales royalties in excess of this amount are paid.

Exclusive licensing in 3 easy and affordable steps
We've devised a simple, no-nonsense approach to licensing that is the quickest and most cost-effective way to design a Ceramitron microscale MS into your next product:
Define the market that includes your specific immediate application and related longer term targets for an exclusive license.
Negotiate and pay a one-time, up-front exclusivity fee for the term of the license.
Negotiate a royalty on product sales and a minimum annual royalty fully creditable against actual sales royalties.
That's it!!

A licensing example shows how this works, along with markets currently available for exclusive licensing.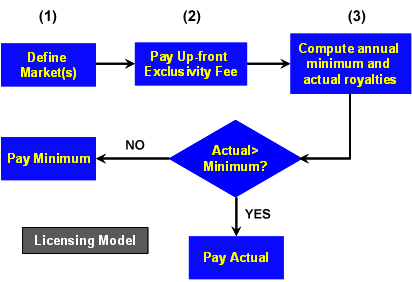 ---
Available Licenses
The following target markets are currently available for exclusive licenses. In most cases, these are large markets with many niche opportunities. Licensing will be considered in each area as a separate negotiation and priced according to the market potential. Using embeddable microsensors, OEMs can take advantage of the latest in miniature MS technology, significantly reducing development costs and time-to-market.
Markets Available for Licensing
Industrial

Chemical process monitoring

Pharmaceutical process QC

Semiconductor manufacturing QC

Industrial leak detection

Industrial hygiene, worker safety
Medical

Anesthesia monitoring and gas analysis

Patient ventilator, blood gas analysis

Fugitive gas monitoring and control

Breath analysis, non-invasive testing

Sports medicine, metabolism
Environmental

Plant perimeter monitoring

Weather balloons, atmospheric monitoring and research
Military

Battlefield standoff monitor

Antiterrorism countermeasures